Retro Repair Guy
Hi everyone,
My career path and life took many turns along the way to bring me where I am today, making videos on my YouTube channel called Retro Repair Guy.
TECHNICAL:
Like many people who got to grow up in the 70s and 80s, I had a passion for computers and game consoles since being introduced to them at a very young age and owned many growing up.
After graduating High School in 1989 I went on to study electronics and graduated in 1991. I then worked for RCA repairing audio and video equipment but left after a short while to go work for an aerospace company where I worked for six years reviewing electrical and other technical specifications. During that time I continued operating a mobile and home based business fixing electronic equipment of all kind. I returned to school to study Computer Networking in 1997 for two years and pursued a twenty-five-year career in various IT positions that included Network and Systems Admin, Technical Analyst, Solutions Integrator, and Consultant.
ACTING:
In the 2000s (the noughties), while working in IT and running a small repair business, I was also acting, writing, and editing movies. I started at a young age and was involved with both French and English TV shows. I had a passion for movie making and began doing extra work on many films and hanging out on sets as much as I could to observe and learn. I doubled for Canadian actor Walter Massey on Lassie who was playing Dr. Donald Stewart. My first exciting memory was doing a small scene with Ewan McGregor in the movie Eye of the Beholder but I ended up on the cutting room floor.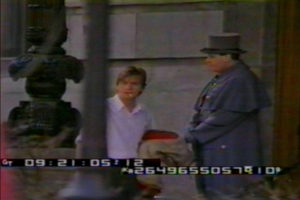 I hung out on the set of Largo Winch that was filming only ten minutes from my house. As an extra I always volunteered for extra hours to be able to observe and learn about how things were done. It's also there I met and became friends with fellow Italian Paolo Seganti who had played the role of Damian Grimaldi on the popular soap AWT, and at the time I ended up creating Paolo's first Website.
I eventually got into independent filmmaking and met a few interesting people along the way. I was offered a starring role in the feature length independent film entitled Years Apart before venturing in making films of my own. Two of them were shown at the Montreal Italian Film Festival and one of my short films entitled Silent Screams was shown at the Action On Film (AOF) Festival in San Francisco. I then took a shot at directing my first feature-length film that I wrote, produced, and starred in entitled Love Kills.
Today I am married to the beautiful Mrs. RRG and we are proud parents to five amazing girls. I still write when I have time but I mainly focus on my YouTube show as I found my passion for breathing life into old things while still being able to entertain and create; it's the best of both worlds.
Make sure to check out my channel and view my work and click here to see how you can get involved.
John Teodoro aka Retro Repair Guy